There's a New York City think tank named "The Ethisphere Institute". It compiles an annual list of the The Most Ethical Companies in The World. The index is open to every company across the globe and provides winners the chance to trumpet their community friendly ways. There is no formal ranking, each company is viewed as being a winner merely for making it on the list. (The same cannot be said for these companies).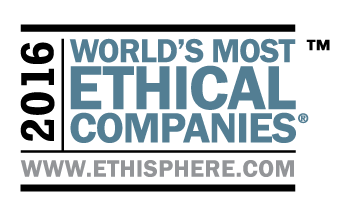 Over 5,000 companies are nominated by themselves or others. Each year the number sets a new record and this demonstrates the increasing desire of corporations to be viewed as responsible guardians of their communities by maintaining high ethical standards.
"There are more companies on the list this year as the process has become even more competitive, and more and more companies are realizing how ethics can be an important competitive advantage in the global economy," says Alex Brigham, executive director of the Ethisphere Institute. "Companies that are ethical tend to realize that doing the right thing is actually good for business—and they drive and encourage a culture that emphasizes that."
Ethisphere reviews nominated companies from over 100+ countries representing 36 industries. Their rating system, called the "Ethics Quotient", factors numerous multiple-choice questions derived from a survey designed specifically to capture performance in a standardized and objective way. The process for narrowing results is far reaching and includes everything from the company's codes of ethics, litigation history, regulatory infraction, innovation and sustainable business practices.
We would like to nominate Forte Supply, the frozen yogurt machine maker, as an example of a small company which is making a BIG difference in its own small way. What have they done to be so deserving? Well, actually, they have developed a self-serving frozen yogurt machine which consumes significantly less energy than their peers. This helps companies not only reduce their bill, but helps reduce their carbon foot-print. These small achievements become meaningful when added up.